A picture heavy post so I will cut, but first meet the marrow: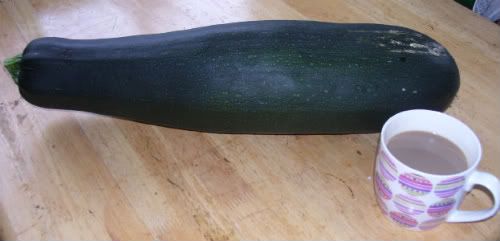 This is what happens if you don't pick courgettes for a few days. I put the mug in for scale.
This is my kitchen table, btw. It IS clean, it's just done hard service over the years. There are chisel gouges and marks where a soldering iron rolled on it and cast iron skillets got put on it. This week it has been painted on and had papeier mache made on it. I can't describe how comforting it is to be able to really USE a piece of furniture without having to worry about scratching the gloss!
Check for dog hair at various points in the recipe. This may not be necessary if you've been sensible enough not to get a huge hairy hound whose undercoat is floaty.
So on to the recipe:
( Read more... )